bartimaeus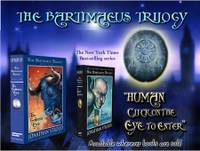 BARTIMAEUS TRILOGY
Have you read Bartimaeus Trilogy?
- A darkly tantalizing tale.........- One of the liviest and most inventive fantasies of recent years...- Colorful... the witty, shape shifting Bartimaeus is the main show. How can books two and three possibly top the adventures here? Well, you'd need to steal a scrying glass, or crystal, to find out.- The biggest event since Harry Potter!Book 1 The Amulet of SamarkandBook 2 The Golem's Eye
NATHANIEL IS ELEVEN YEARS OLD AND A MAGICIAN apprentice, learning the tradtional
arts of magic. All is well until he has a life-changing encounter with Simon Lovelace,
a magician of unrivaled ruthlessness and ambition. When Lovelace brutally
humiliates Nathaniel in public, Nathaniel decides to speed up his education,
teaching himself spells way beyond his years.
With revenge on his mind, he master one of the toughest spells of all
and summons Bartimaeus, a five-thousand-year-old djinni, to assist him.
But summoning Bartimaeus and controlling him are two different
things entirely, and when Nathaniel send the djinni out to steal
Lovelace's greatest treasure, the Amulet of Samarkand, he finds
himself caught up in the whirlwind of magical espionage, murder, and rebellion.
Set in a modern-day London spiced with magicians and mystery.

This is a extraordinary, edge-of-your-seat thriller
with many unexpected twist. Following Bartimaeus and Nathaniel
in turn, the story introduces to two wonderfully memorable characters-
destined to go through many adventures together and bound by a spell
that is neraly impossible to break.