WORMWOOD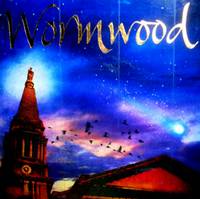 'Wormwood... the bright star shall fall from the sky.... and many

WORMWOOD...
will de bitterness.....

ABOUT WORMWOOD:
Is is London, 1756. In his Bloomsbury attic sits Dr. Sabian Blake - astronomer,
scientist, and the master of the Cabala. Dr. Blake is in possession of the
Nemorensis, an ancient leather-bound book
that holds the secret of the universe. Scribbled into one of tis margins
is a mysterious prophecy, and deciphering it could prove
the key to saving London from a catastrophic fate.
But there are others interested in the Nemorensis too,
for more sinister reason....
This is a tale of sorcery, treachery, intrigue and supenatural.

Shadowmancer is set against a rich historical backdrop and will enthrall
readers to the very last page....
Praise for Showmancer:
'Its magic ridden, cliff-top, wave-lashed opening, with its evil
vicar summoning up spirits, will draw in Harry Potter addicts.'
- PIC