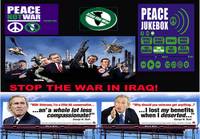 STOP THE WAR IN IRAQ!
PEACE NOT WAR VOLUMES 1 & 2 ARE DOUBLE-CD COMPILATIONS OF ANTI-WAR MUSIC RAISING FUNDS FOR THE NEW INTERNATIONAL PEACE MOVEMENT
http://www.peace-not-war.org/
'Military Families Against the War is a new organization of people directly affected by the war in Iraq.'
HEY GEORGE! AWOL- absent for 30 days or less.Desertion-----absent for more than 30 days with evidence of no intent to return to duty.
When, precisely, did Bush or his unit receive the Air Force Outstanding Unit Award?
- Hmmmmm!
Hall of Shame.
Article 83 -Fraudulent enlistment, appointment, or separation
Article 85 -Desertion
Article 86 -Absence without leave (AWOL)
Article 87 -Missing movement
"I am angry that so many of the sons of the powerful and well-placed... managed to wangle slots in Reserve and National Guard units...Of the many tragedies of Vietnam, this raw class discrimination strikes me as the most damaging to the ideal that all Americans are created equal and owe equal allegiance to their country." (Colin Powell's autobiography, My American Journey, p. 148)
Um...Colin...have you talked to your boss about this anger? What about guys that get those slots, and then don't even show up for duty?